Press Release
Apr.07, 2016
Ronia, the Robber's Daughter, with CG animation by Polygon Pictures
wins grand prize at the International Emmy Kids Awards!
Polygon Pictures ("PPI," President and CEO: Shuzo Shiota, Head Office: Tokyo, Japan) is proud to announce that the television series Ronia, the Robber's Daughter (26 episodes), with CG animation produced by our studio, has been awarded the grand prize in the Animation category at the Fourth International Emmy Kids Awards.

Ronia, the Robber's Daughter is an animated TV series based on the fantasy novel by Swedish author Astrid Lindgren, one of the world's most respected children's authors, best known for the Pippi Longstocking series. The series was directed by Goro Miyazaki, his first TV series after directing the animated feature films Tales from Earthsea and From Up on Poppy Hill. Initially broadcast in 2014 on NHK BS Premium, it is planned to be rerun on NHK E-Tele from April 8, 2016.

Comment from Director Goro Miyazaki:
"I've strived on this work in the hope that children will see it, so I am very happy to accept this award. I'd like to extend my thanks and share this joy with all the people who were involved, the staff, and my family. Thank you very much."

In keeping with our stated mission to "do what no other has done, in unparalleled quality, for all the world to see and enjoy," PPI will continue striving to launch Japan's renowned animation business on a global scale.
About Ronia, the Robber's Daughter
Based on: Ronia, the Robber's Daughter by Astrid Lindgren
(Japanese translation by Yuzo Otsuka)
Directed by: Goro Miyazaki
Series Written by: Hiroyuki Kawasaki
Animation Produced by: Polygon Pictures Inc.
In Cooperation with: Studio Ghibli
Series Produced by: NHK Enterprises
Produced and Copyrighted by: NHK Enterprises and DWANGO Production
Official site: http://www.nhk.or.jp/anime/ronja/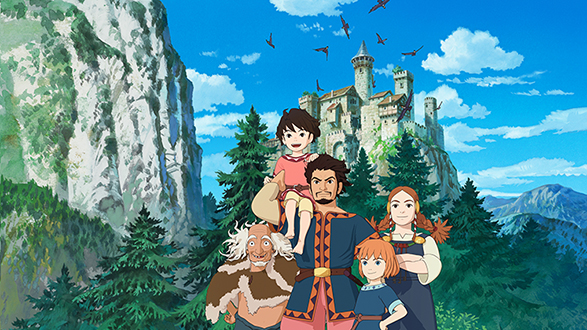 ©NHK・NEP・Dwango, licensed by Saltkråkan AB, The Astrid Lindgren Company
About the International Emmy Awards
Founded in 1969, the International Academy of Television Arts & Sciences is an organization with members from over 60 countries and 500 companies around the world which recognizes excellence in television produced outside of the United States through these awards. The Kids Award for children's programming was newly established in 2012, and is comprised of 6 categories: Preschool, Animation, Factual, Non-Scripted Entertainment, Series, and TV Movie/Mini-Series.

Official site: http://iemmys.tv/news_item.aspx?id=207