HUMAN LOST to Officially Screen at the Annecy International Animation Film Festival!
Osamu Dazai's masterpiece of Japanese literature, No Longer Human receives a dynamic remake as HUMAN LOST. No Longer Human, the immortal work of Japanese fiction which details the life story of a man on the brink of despair and ruin continues to greatly impact society with its deep introspection on life and death as well as its high literary sense. 2019 marks the 110th anniversary of the birth of Osamu Dazai, and to celebrate this, HUMAN LOST, a restructured version of his masterpiece novel by a dream-team of Japan's most prominent, world-famous creators, will release worldwide.

We are proud to announce that HUMAN LOST will screen at the largest animation film festival in the world - France's Annecy International Animation Film Festival.
The Annecy International Animation Film Festival
The Annecy International Animation Film Festival
The Annecy International Animation Film Festival was created in 1960, when the animation category of the Cannes International Film Festival branched off into its own independent organization.
Annecy is the largest animation film festival in the world, with approximately 120,000 visitors and 230 domestic and foreign titles screened every year.

・Location: Annecy, France
・Duration: June 10-15, 2019
・Official Site: https://www.annecy.org/home

Official Trailer: https://youtu.be/Ixff5qlLCCQ


■INTRODUCTION
Osamu Dazai's No Longer Human, a masterpiece of Japanese literature, receives a bold new birth from the creative dream team of Katsuyuki Motohiro, Fuminori Kizaki, Tow Ubukata, and Polygon Pictures.

Osamu Dazai's immortal novel No Longer Human depicts the life of a man falling into ruin. This timeless masterpiece, whose literary depth and perspective on life and death still carry a powerful impact, has been dynamically re-envisioned by a dream team of world-renowned Japanese creators.
Acting as supervisor is Katsuyuki Motohiro, whose Bayside Shakedown and Psycho-Pass took Japan by storm. Directing is Fuminori Kizaki, whose singular vision, as seen in Afro Samurai, Basilisk, and Bayonetta: Bloody Fate has earned acclaim both in Japan and internationally. The script is by novelist Tow Ubukata, whose many awards include the Nihon SF Taisho Award for Mardock Scramble and the Yoshikawa Eiji Prize for New Writers for Tenchi Meisatsu (Tenchi: The Samurai Astronomer). The story's world takes on vibrant life through character designs by Yusuke Kozaki, known for his work creating characters for franchises like Pokemon GO and Fire Emblem, and concept art by Kenichiro Tomiyasu, veteran of large-scale Japanese and international projects including Final Fantasy XI and Metal Gear Rising: Revengeance. Moreover, animation production is by Polygon Pictures, the studio that has won numerous awards worldwide for Star Wars: The Clone Wars and Transformers: Prime, and has carried on its visual revolution with Blame! and the animated Godzilla film trilogy.
This new and radical creative team will astonish the world with Human Lost, an envisioning of Dazai's novel that's like nothing ever seen before.


■The Story
"Mine has been a life of much shame."

Tokyo, 2036 (Showa year 111): a revolution in medical treatment has conquered death...
By means of internal nanomachines and the "S.H.E.L.L." system whose network controls them, human beings suffer no diseases, require no treatment for injuries, and are guaranteed a 120-year lifespan, free from illness. Yet this consummate social system warps the Japanese nation in a host of ways: unresolved economic disparities, ethical decadence resulting from deathlessness, grave environmental pollution, and the "Human Lost" phenomenon, in which people themselves, disconnected from the S.H.E.L.L. network, become malformed.
Japan teeters wildly between two potential futures: civilization's restoration, or its destruction.

Atmospheric pollution suffuses "Route 16" in the Outside--the area outside the Route 16 beltway.
Youzou Oba, who lives an idle, drug-saturated life, joins Masao Horiki, a mysterious man who associates with the drag-racing gangs, on an incursion Inside--the area within the Route 7 loop where the privileged class lives--only to be embroiled in a violent struggle. When he encounters a malformed sufferer of the Human Lost phenomenon, a "Lost," Youzou's life is saved by Yoshiko Hiiragi, a girl of mysterious abilities who belongs to the anti-Lost agency H.I.L.A.M., and he discovers that he himself also possesses extraordinary powers...

Degradation and death. Life and hope. Buffeted by fate, a man tears himself apart and cries out. Rage. Sorrow. Pathos. Consumed by despair and bitter tears, Youzou Oba is himself transformed into a demon.

A human lost... or a human who can find himself?


■STAFF
Concept Based on Osamu Dazai's "No Longer Human"
Supervisor:Katsuyuki Motohiro
Director: Fuminori Kizaki
Screenplay By :Tow Ubukata
Character Designer :Yusuke Kozaki
Concept Artist:Kenichiro Tomiyasu(INEI)
Animation Production:POLYGON PICTURES
Planning by:MAGNET/SlowCurve
Domestic Distribution:TOHO VISUAL ENTERTAINMENT

■CAST
・Yozo Oba: Mamoru Miyano

◆WEB
Official Site:human-lost.jp
Official Twitter:@HUMANLOST_PR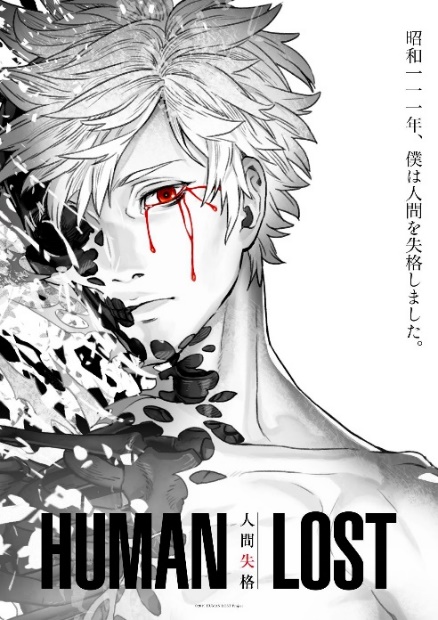 ©2019 HUMAN LOST Project