Tsutomu Nihei's BLAME! to be first anime in Japan released in Dolby Atmos!
Be transported into the story with breathtakingly realistic sound!
Originally serialized in Kodansha's Afternoon magazine from 1997 to 2003, BLAME! was the debut work of Tsutomu Nihei, who went on to win the 39th Kodansha Manga Awards for Knights of Sidonia. Tsutomu Nihei's visionary debut continues to inspire creators and artists around the world even today.
Finally, the animated film adaptation of BLAME! has been confirmed for a two-week limited run in cinemas nationwide from Saturday, May 20th!

BLAME! has also been confimed to be the first Japanese animated feature to be screened with the latest Dolby Atmos sound system, offering a truly three-dimensional audio experience!

Dolby Atmos is the latest in cinema audio platforms, adding the element of "height" to create a multidimensional sound profile in addition to the standard cinema surround speakers. With speakers placed overhead, sound comes from all directions, to fill the cinema with astonishing clarity, richness, detail, and depth. The sounds of the onscreen story move all around you in three-dimensional space, so you feel like you're inside the action. Experience the breathtaking sounds of Dolby Atmos, as it fills the room and flows all around you!
BLAME! is a story of intense action and unfathomable scale, against the backdrop of a vast, multi-layered city. Now you can dive into the world of BLAME! with the dynamic visuals created in 3D CG, along with the immersive sound of Dolby Atmos!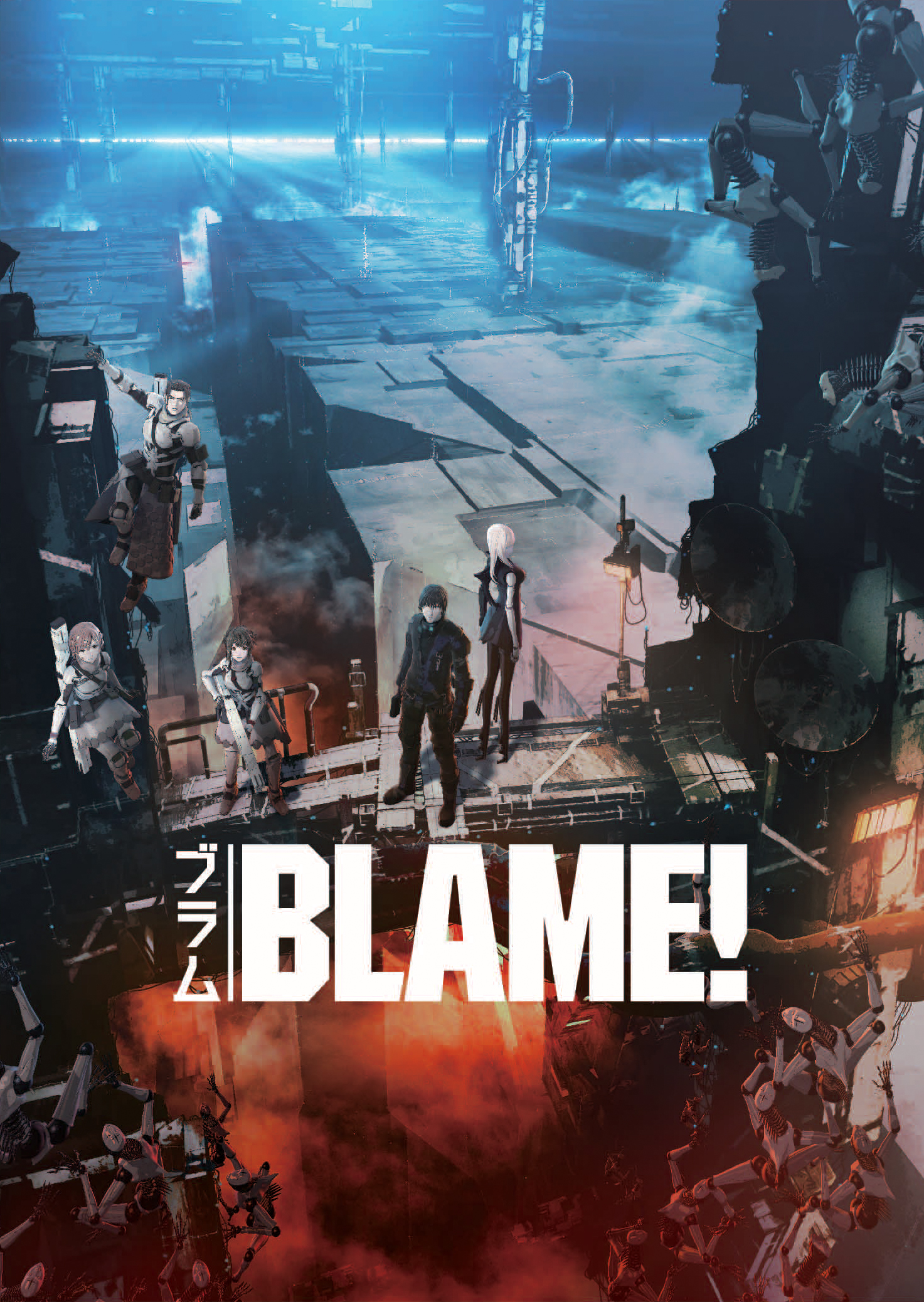 ©︎Tsutomu Nihei, KODANSHA/BLAME! Production Committee
BLAME! Overview
In cinemas nationwide from Saturday, May 20th, 2017 (two-week limited run)


Introduction
Tsutomu Nihei's visionary debut,
which has continued to inspire creators around the world.

Humanity faces purges and extermination in a dark future, and a wanderer named Killy must carry out a solitary, dangerous mission through a mammoth multi-leveled "city" that continues to expand forever in the masterpiece SF manga BLAME! (from Kodansha's Afternoon magazine). The unique setting, unfathomable scale, and hard, heavy action garnered acclaim from directors and artists both in Japan and abroad, creating hopes that against all odds, a film adaptation might one day happen. Now, twenty years after the original comic began, an animated feature-length film is about to be unleashed upon the entire world. Now, twenty years after the original comic began, an animated feature-length film is about to be unleashed upon the entire world.
Directing the film will be Hiroyuki Seshita, who brought the world the complex, hard-SF battles of Knights of Sidonia and the speedy, thrilling suspense of Ajin: Demi-Human. Animation will be handled by Polygon Pictures, known worldwide for their award-winning work on shows like Star Wars: The Clone Wars and Transformers Prime, as well as the epic Knights of Sidonia series. On top of that, original creator Tsutomu Nihei is providing full creative direction to the project, handling script and character design.
With the staff of the visionary Knights of Sidonia reunited and the executive supervision of story creator Tsutomu Nihei, BLAME! is ready to shock the world once again with an all-new story!


Story
In a future where technology has run rampant,
humanity's only hope rests on a lone wanderer.

An "infection" in the past has caused automated systems to spiral out of order, resulting in a multi-leveled city structure that replicates itself infinitely in all directions.
Now humanity has lost access to the city's controls, and is hunted down and purged by the defense system known as the Safeguard.
In a tiny corner of the city, a little enclave known as the Electro-Fishers is facing eventual extinction, trapped between the threat of the Safeguard and dwindling food supplies.
A girl named Zuru goes on a journey to find food for her village, only to inadvertently cause doom when an observation tower senses her and summons a Safeguard pack to eliminate the threat.
With her companions dead and all escape routes blocked, the only thing that can save her now is the sudden arrival of Killy the Wanderer, on his quest for the Net Terminal Genes, the key to restoring order to the world.


Cast
Killy: Takahiro Sakurai
Cibo: Kana Hanazawa
Zuru: Sora Amamiya
Pops: Kazuhiro Yamaji
Sutezo: Mamoru Miyano
Tae: Aya Suzaki
Fusata: Nobunaga Shimazaki
Atsuji: Yuki Kaji
The Authority: Aki Toyosaki


Staff
Based on the manga: BLAME! (published by KODANSHA Ltd.) by Tsutomu Nihei
Creative Consultant: Tsutomu Nihei Director: Hiroyuki Seshita
Co-director/CG Supervisor: Tadahiro "Tady" Yoshihira Screenplay: Sadayuki Murai
Production Designer: Naoya Tanaka Character Designer: Yuki Moriyama
Director of Photography: Mitsunori Kataama Background Art Director: Hiroshi Takiguchi
Color Designs: Hironori Noji Sound Director: Yoshikazu Iwanami Music: Yugo Kanno
Main Theme: angela "Calling you" Music Produced by: King Records
Animation Produced by: Polygon Pictures Inc.
Distributed by: The Klockworx Produced by: BLAME! Production Committee


Official Homepage/Twitter/Facebook
Official Site: http://www.blame.jp/
Official Twitter: @BLAME_anime
Official Facebook: https://www.facebook.com/BLAME.anime