Anime Godzilla to be shown at next week's Annecy International Animated Film Festival!
Comments from Directors Shizuno and Seshita
2016 saw the release of the no. 1 box office smash hit live action film, Shin Godzilla (directed by Hideaki Anno). This grounded portrayal captured the hearts of audiences, and has been honored with seven prizes at the 40th Japan Academy Awards, including Picture of the Year.
The next step in the Godzilla franchise will be the release this November of GODZILLA: Planet of the Monsters.
This landmark year in which the Japanese animation industry celebrates its 100th anniversary will also herald the first time in history that Godzilla has been adapted into an animated feature. Prepare for the earth-shattering roar of a brand new, animated Godzilla!

We have also received comments on GODZILLA: Planet of the Monsters being shown at the Annecy International Animated Film Festival in France, June 12-17, from the directors of the film, Kobun Shizuno (Detective Conan: Crimson Love Letter, now in cinemas) and Hiroyuki Seshita (BLAME!, the movie adaptation of the Tsutomu Nihei's legendary comic which has inspired creators and sci-fi fans around the world)!
Comment from Kobun Shizuno
I'm sure people around the world are curious about Godzilla becoming an anime. I look forward to seeing the reactions to Godzilla from the anime fans at Annecy!

Comment from Hiroyuki Seshita
I'm happy to be at this historic moment where the world's greatest kaiju makes his appearance at the world's greatest animation festival!



The Annecy International Animated Film Festival was established in 1960 as an independent entity from the animation category of the Cannes International Film Festival, and now authorized by the International Animation Film Association (ASIFA), is the world's largest animated film festival.
GODZILLA: Planet of the Monsters will be shown as part of Work in Progress, a making-of feature for upcoming titles. At 9:30 a.m. local time on Wednesday, June 14, directors Kobun Shizuno and Hiroyuki Seshita will also make an appearance. Work in Progress covers anticipated upcoming Japanese animated features, and showed In This Corner of the World (directed by Sunao Katabuchi) in 2016, and The Boy and the Beast (directed by Mamoru Hosoda) in 2015.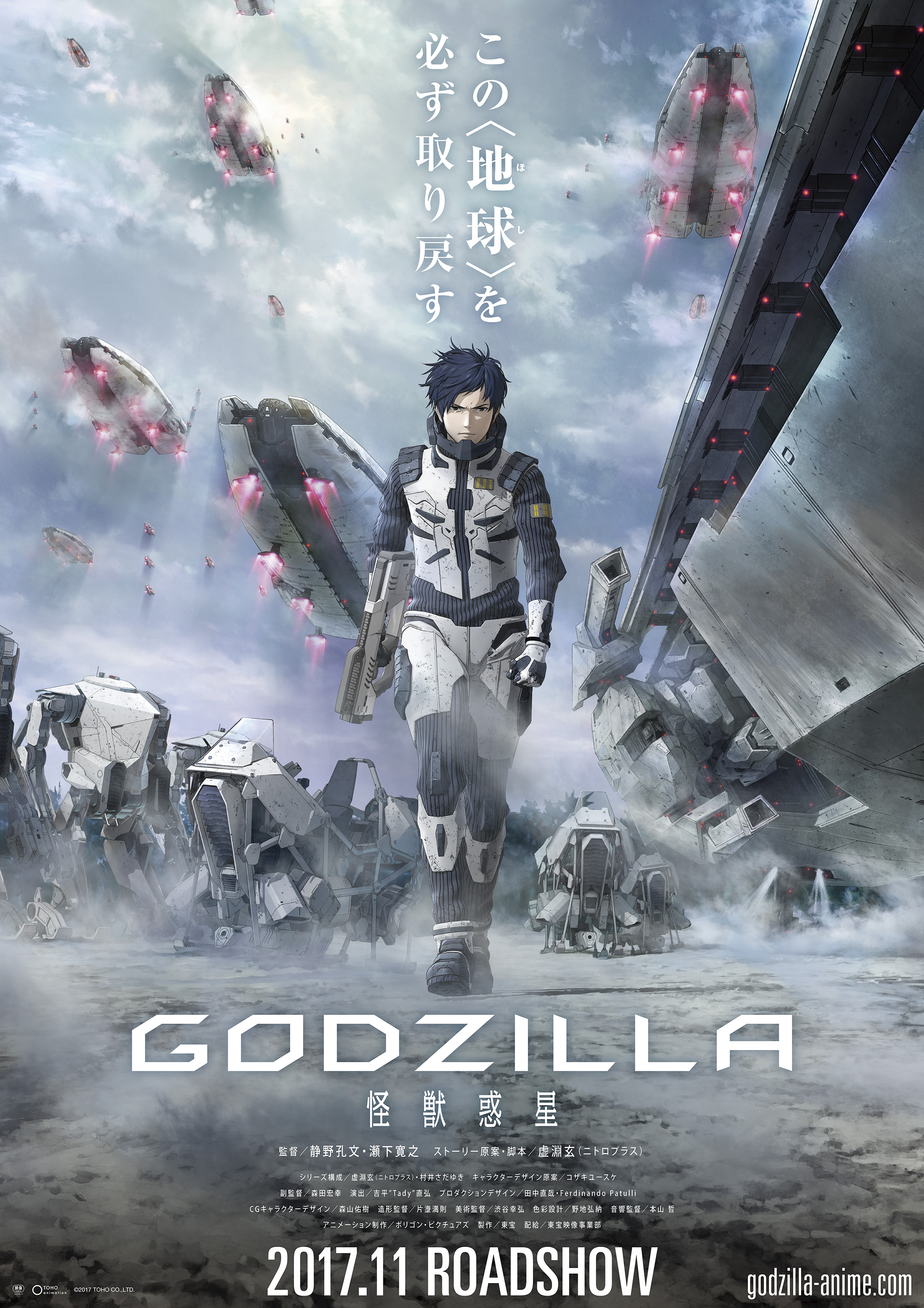 ©2017 TOHO CO.,LTD.
Profile: Kobun Shizuno
Born in 1972. Worked at Golden Creative (Beijing) and kry Inc.
Began directing with the 2004 TV anime Detective Conan, and selected as supervising director for the 2005 American animated series G.I. Joe Sigma 6. Has also worked in directorial roles in Evangelion 1.0 You Are (Not) Alone (2007), OVA Fist of the North Star: The Legends of the True Savior: Legend of Toki (2009), Negima! Master Negi Magi: Another World (2009-2010), TV series Knights of Sidonia (2014), and the Detective Conan series of feature films (2011-2016).

Profile: Hiroyuki Seshita
Born in 1967. Joined Links in 1989. Worked as a CG director/designer in various fields of CG/VFX including feature films such as Kappa, Parasite Eve, and TV commercials, game cinematics, etc. In 1997 left for the USA to join Square USA and worked as Art Director on Final Fantasy: The Spirits Within (2001). In 2000 returned to Japan to join Square (now Square Enix) and worked as a designer/VFX supervisor on cinematics for games such as Final Fantasy X (2001), Final Fantasy XI (2002), Kingdom Hearts (2002), Final Fantasy X-2 (2003) and others. Joined Casio Entertainment in 2004. Worked as VFX Director on Hitoshi Matsumoto's film Dainipponjin (2007) and Symbol (2009). In 2010, joined Polygon Pictures. Has since worked as a director on Knights of Sidonia (2014), Knights of Sidonia: Battle for Planet Nine (2015), Ajin: Demi-Human (2015-2016), and BLAME! (2017).
Introduction
Ever since it was first released as a feature film in 1954, Godzilla has come to be a colossal cultural icon loved by millions around the world. 2016 saw the release of Shin Godzilla, directed by Hideaki Anno. This grounded depiction of the iconic monster story captured audiences and became a huge hit. Now in 2017, Godzilla continues to surprise with this evolution into a feature-length animated film.
This animated movie takes the franchise into uncharted territory; mankind's fateful confrontation to retake their planet in a distant future where Godzilla has dominated the Earth for 20,000 years.
Directing is Kobun Shizuno, whose theatrical release of Detective Conan: The Darkest Nightmare last year achieved the highest box office success yet for that famed franchise. He is joined by another proven talent on the cutting edge of computer graphics, Hiroyuki Seshita, director and supervising director of Knights of Sidonia: Battle for Planet Nine and Ajin: Demi-Human. Penning both the story and screenplay is Gen Urobuchi of Puella Magi Madoka Magica and Psycho-Pass, a writer known to his large and loyal fan base as a master of meticulous and unpredictable storytelling laced with powerful ideas. Finally, handling the production is 3-consecutive Emmy award winning Japanese 3DCG animation studio, Polygon Pictures, which produced Knights of Sidonia, and Star Wars: The Clone Wars for U.S. television and earning Outstanding Special Class Animated Program at the 40th Annual Daytime Emmy Awards. Prepare for the earth-shattering roar of a brand new Godzilla, unlike anything heard or seen before!

Story
The final summer of the 20th century… when mankind learns it is no longer the sole ruler of planet Earth.
The planet is beset by the emergence of colossal creatures that roam the Earth, and king among them is "Godzilla". For a half a century, these beasts engage in ferocious battle with each other and mankind. Ultimately humanity, unable to compete, prepares for exile from its home planet. In the year 2048, a select few humans are chosen by the central government's artificial intelligence to set out on an interstellar emigration vessel, the Aratrum, on an 11.9-light-year journey for the planet Tau Ceti e. But when they arrive after 20 years of space travel, the remnants of mankind find the environmental conditions on Tau-e to be much worse than expected, and uninhabitable by humans.
On board the vessel is a young man, Haruo. When he was four years old, he saw his parents killed by Godzilla before his eyes, and in the 20 years since he has thought about nothing but returning to Earth and defeating Godzilla. With their chance for escape to another world closed, and living conditions on the ship deteriorating, Haruo spearheads a movement to return to Earth despite the dangers of such a long return trip.
Somehow, the Aratrum makes the return journey in one piece, but the home they return to has become an alien planet. 20,000 years have elapsed, and a new ecosystem has emerged with Godzilla at its apex. Can mankind take back its native planet? Will Haruo get his revenge?