From live-action Shin Godzilla to animated Godzilla: Planet of the Monsters
Crossing dimensions and 20,000 years of evolution—could this be the biggest, baddest Godzilla yet!?
2016 saw the release of the no. 1 box office smash hit live action film, Shin Godzilla (directed by Hideaki Anno). This grounded portrayal captured the hearts of audiences, and has been honored with seven prizes at the 40th Japan Academy Awards, including Picture of the Year.
The next step in the Godzilla franchise will be the release this November of Godzilla: Planet of the Monsters. This landmark year in which Japan celebrates the 100th anniversary of the release of its first animated film will also finally herald the first time in history that the challenge has been undertaken to adapt Godzilla into an animated feature.
And now, the first image of Godzilla himself, from Godzilla: Planet of the Monsters, has been revealed. The image released shows a high-contrast silhouette. While the size and coloring of the beast are still unconfirmed, we can see the difference between this and the depiction of the iconic monster in Shin Godzilla.
Together with this, the third teaser image for Godzilla: Planet of the Monsters has also been released. In addition to the Godzilla image, a catch-phrase which reads "Despair evolves".
With regard to the images released at this time, director Kobun Shizuno commented, "From the start we had the blessing of Toho to not be constrained by previous entries in the franchise, and with the freedom of imagination offered by animation I feel we have come up with a cool new form for Godzilla."
Joint director Hiroyuki Seshita also added, "With his masses of muscle fibers and unique body tissue to support his enormous bulk, this is an extraordinarily rugged-looking physique. It was an overwhelming presence that reverberated through the whole project, like a fearsome deity that even we who created it must prostrate ourselves before. That is our Godzilla."
In addition, Toho's Yoshihiro Furusawa, acting as executive producer for this project, added, "As a result of him continuing to grow for 20,000 years, we've surpassed Shin Godzilla to create the biggest Godzilla yet! We hope you're looking forward to seeing this Godzilla, and the unique ecosystem created by his perpetual dominion over the Earth." Get ready for this story set on Earth 20,000 years in the future, of the showdown between Godzilla on one side, and humanity along with two other alien species on the other!

The release date for this feature has also been announced. The animated feature film Godzilla: Planet of the Monsters will be released nationwide on Friday, November 17, 2017.

Additionally, on Wednesday, June 14, this film will be joining the Annecy International Animated Film Festival in France! The Annecy International Animated Film Festival was established in 1960 as an independent entity from the animation category of the Cannes International Film Festival, and now authorized by the International Animation Film Association (ASIFA), is the world's largest animated film festival. Godzilla: Planet of the Monsters will be introduced as part of Work in Progress, a making-of program covering upcoming feature-length works. At 9:30 a.m. local time on Wednesday, June 14, directors Kobun Shizuno and Hiroyuki Seshita will also make an appearance, and may be able to give some additional information on the Godzilla images that have just been revealed! Work in Progress covered Japanese features In This Corner of the World (directed by Sunao Katabuchi) in 2016, and The Boy and the Beast (directed by Mamoru Hosoda) in 2015, and has become a popular event at the film festival in recent years.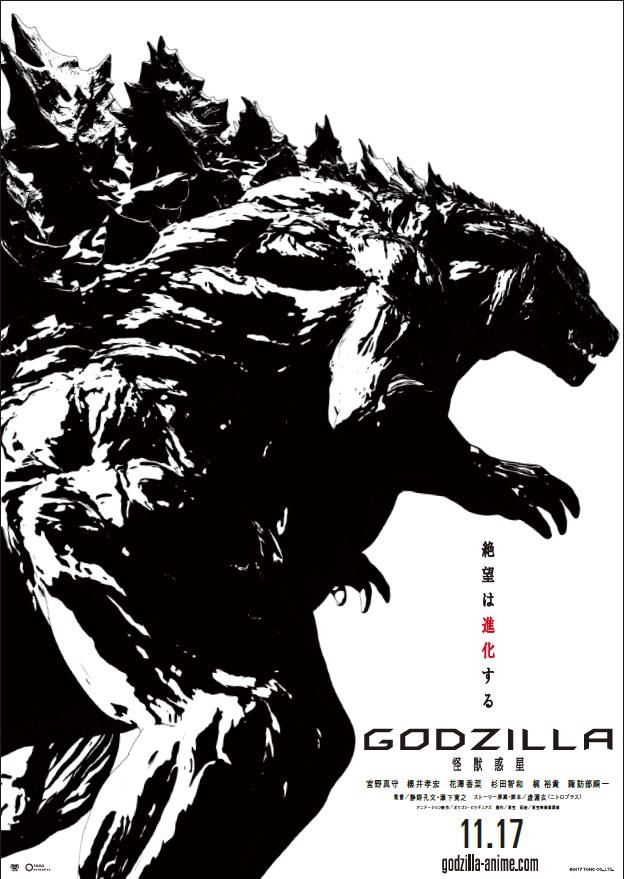 ©2017 TOHO CO.,LTD.
Introduction
Ever since it was first released as a feature film in 1954, Godzilla has come to be a colossal cultural icon loved by millions around the world. 2016 saw the release of Shin Godzilla, directed by Hideaki Anno. This grounded depiction of the iconic monster story captured audiences and became a huge hit. Now in 2017, Godzilla continues to surprise with this evolution into a feature-length animated film.
This animated movie takes the franchise into uncharted territory; mankind's fateful confrontation to retake their planet in a distant future where Godzilla has dominated the Earth for 20,000 years.
Directing is Kobun Shizuno, whose theatrical release of Detective Conan: The Darkest Nightmare last year achieved the highest box office success yet for that famed franchise. He is joined by another proven talent on the cutting edge of computer graphics, Hiroyuki Seshita, director and supervising director of Knights of Sidonia: Battle for Planet Nine and Ajin: Demi-Human. Penning both the story and screenplay is Gen Urobuchi of Puella Magi Madoka Magica and Psycho-Pass, a writer known to his large and loyal fan base as a master of meticulous and unpredictable storytelling laced with powerful ideas. Finally, handling the production is 3-consecutive Emmy award winning Japanese 3DCG animation studio, Polygon Pictures, which produced Knights of Sidonia, and Star Wars: The Clone Wars for U.S. television and earning Outstanding Special Class Animated Program at the 40th Annual Daytime Emmy Awards. Prepare for the earth-shattering roar of a brand new Godzilla, unlike anything heard or seen before!

Story
The final summer of the 20th century… when mankind learns it is no longer the sole ruler of planet Earth.
The planet is beset by the emergence of colossal creatures that roam the Earth, and king among them is "Godzilla". For a half a century, these beasts engage in ferocious battle with each other and mankind. Ultimately humanity, unable to compete, prepares for exile from its home planet. In the year 2048, a select few humans are chosen by the central government's artificial intelligence to set out on an interstellar emigration vessel, the Aratrum, on an 11.9-light-year journey for the planet Tau Ceti e. But when they arrive after 20 years of space travel, the remnants of mankind find the environmental conditions on Tau-e to be much worse than expected, and uninhabitable by humans.
On board the vessel is a young man, Haruo. When he was four years old, he saw his parents killed by Godzilla before his eyes, and in the 20 years since he has thought about nothing but returning to Earth and defeating Godzilla. With their chance for escape to another world closed, and living conditions on the ship deteriorating, Haruo spearheads a movement to return to Earth despite the dangers of such a long return trip.
Somehow, the Aratrum makes the return journey in one piece, but the home they return to has become an alien planet. 20,000 years have elapsed, and a new ecosystem has emerged with Godzilla at its apex. Can mankind take back its native planet? Will Haruo get his revenge?