Press Release
Feb.01, 2017
Polygon Pictures releases its first eBook:
the coming-of-age novel Elisa and the Old Norton!
Polygon Pictures ("PPI," President and CEO: Shuzo Shiota, Head Office: Tokyo, Japan) is proud to announce that it will begin publishing eBooks through Kindle Direct Publishing, a self-publishing service provided by Amazon.com, Inc.

The first offering, Elisa and the Old Norton, is a coming-of-age novel by the up-and-coming Nanao Takaya.
It is the story of Elisa, a high school student who happens upon an old bike that once belonged to her English grandfather. As she and her friends work on restoring the bike, Elisa herself grows upin the process. Polygon Pictures character designer Yuki Moriyama and production designer Naoya Tanaka, who have lent their talents to projects like Knights of Sidonia, Ajin: Demi-Human, and BLAME!, provide the illustrations.

Starting with its current venture in eBook publishing, Polygon Pictures will carry on pursuing diverse enterprises in the future, and we hope you will be looking forward to it!
Elisa and the Old Norton
By Nanao Takaya
Cover Illustration: Yuki Moriyama Illustrations: Yuki Moriyama and Naoya Tanaka
Available Starting: February 1, 2017 (Wednesday) Price: 480JPY
URL: https://www.amazon.co.jp/dp/B01MZF2EKT
Format: Kindle
Language: Japanese
Publisher: Polygon Pictures Inc.

Plot
In the spring of 1990, family circumstances cause 16-year-old Elisa to change high schools from Tokyo to Fujimi-cho in Nagano Prefecture.
While living with her grandmother Akiko, Elisa learns of the 1937 Norton 500 motorcycle, made in England, which once belonged to her dead English grandfather and no longer runs. Elisa is drawn to the Norton's aura, and with the help of her friend Aiko―a member of the antique car club at school―she begins restoring it. Then a chance coincidence leads to Elisa's Norton being exhibited at
a national convention for restored motorcycles...
Life in an unfamiliar place. new encounters, friendship, struggle, and romance.
A coming-of-age story about a young girl who experiences various events of her youth through restoring a motorcycle and grows up!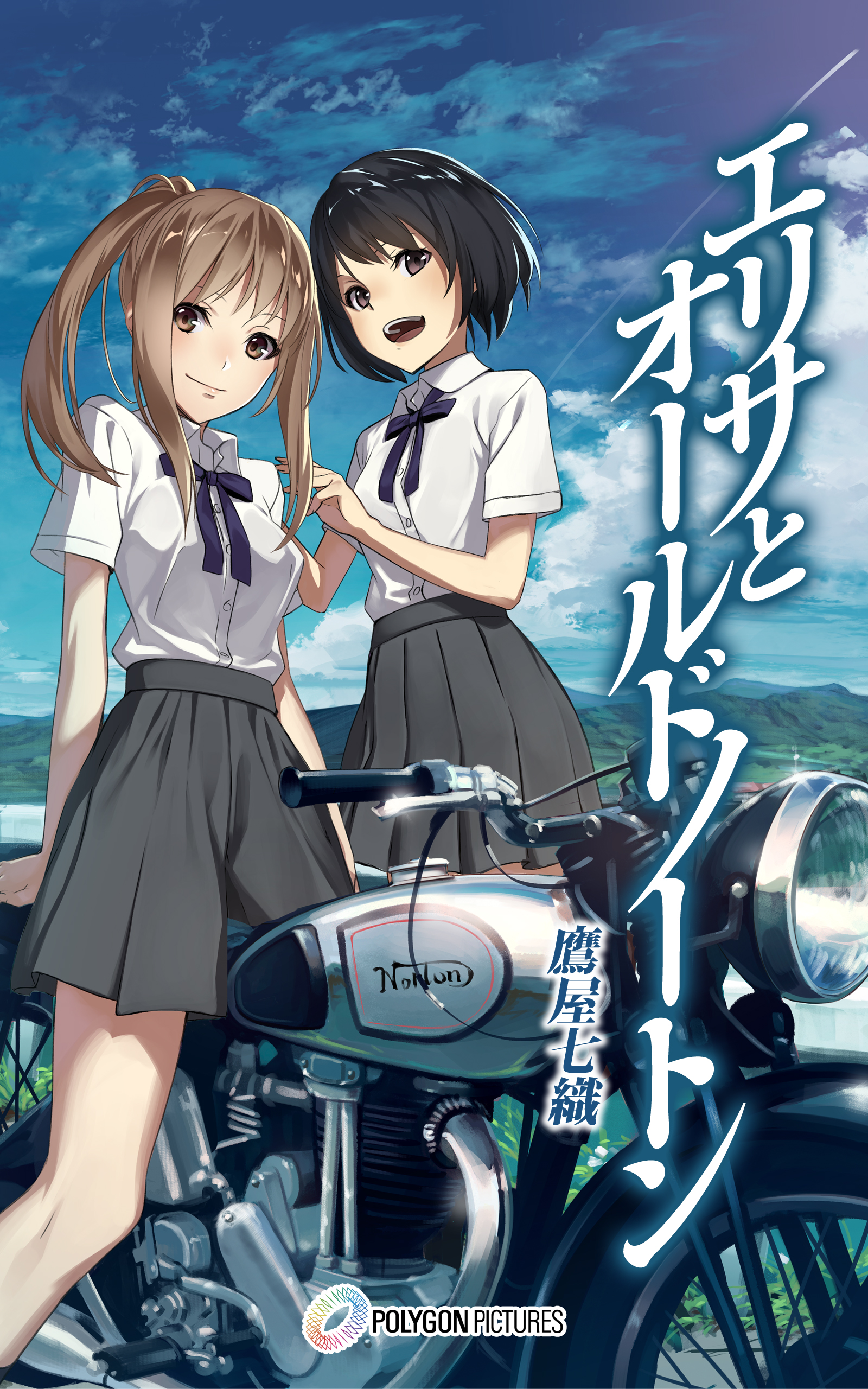 ©Nanao Takaya / POLYGON PICTURES
About Nanao Takaya
Born in Tokyo. Star sign: Scorpio, blood type AB. Graduated from the Design Department of the Musashino Art University Junior College of Art and Design.
Although he wanted to be a manga artist, incidental circumstances led him to animation.
He has contributed to multiple works as an animation designer.
His interests include bicycles, music, and watching history documentaries.
He is currently hard at work writing a new novel.