Press Release
Oct.23, 2019
Levius to Start Streaming November 28, 2019!
New Visuals, Trailer, and Theme Song Revealed!
Polygon Pictures ("PPI," President and CEO: Shuzo Shiota, Head Office: Tokyo, Japan) is proud to announce that Levius, an animated series with animation produced by our studio, will begin streaming worldwide on Netflix on Thursday, November 28, 2019.
A new visual and trailer have also been revealed with this announcement.
This image shows the protagonist, Levius (voiced by Nobunaga Shimazaki), surrounded by Zack (Junichi Suwabe), Bill (Takahiro Sakurai), and Natalia (Ayane Sakura), among other characters from the series.

Also, the theme song will be performed by Nazome (Warner Music Japan), making their debut with this series. A part of the theme song, wit and love, can be heard in the trailer.

Trailer URL: https://youtu.be/mea4naWOOcs

The comic series Levius, by Haruhisa Nakata, showcases the subtle emotions of a troubled youth alongside action scenes fusing man and machine with exquisitely detailed illustrations; now brought to life in an anime adaptation from the main staff of Ajin:Demi-Human.

Be sure to check out the intense "metal boxing" fight scenes, created with the latest in 3D CG technology!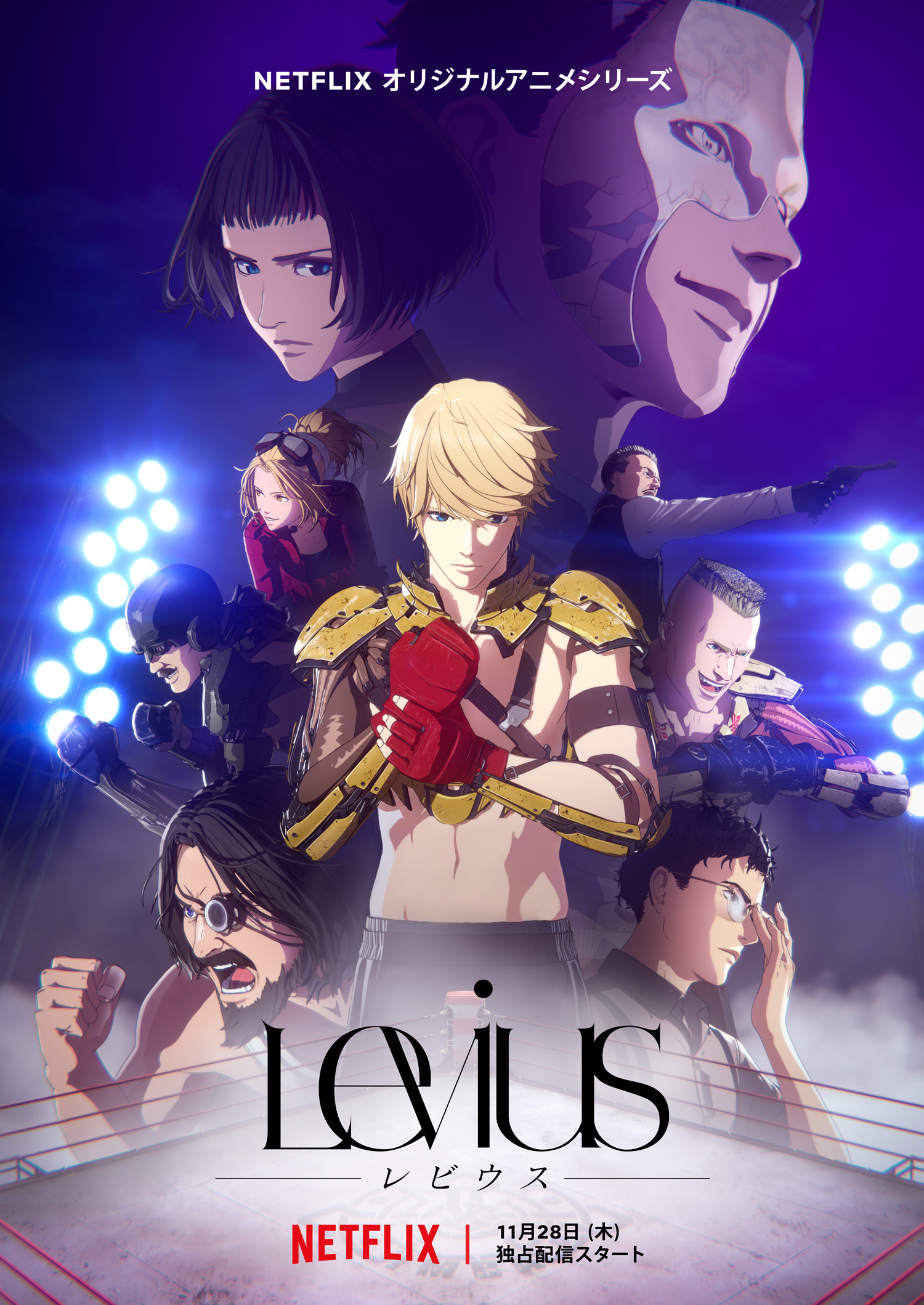 © Haruhisa Nakata/Shueisha & Polygon Pictures
About Levius
The awaited anime adaptation of the manga Levius (Haruhisa Nakata, Shueisha Young Jump Comics Ultra), formatted with a global audience in mind. It follows the blossoming talent of Levius - a young man whose arm has been replaced with a mechanical prosthesis, thrown into the world of "metal boxing", a violent and exciting combat sport fusing man and machine. A new, cutting-edge visual style of anime depicting Levius' struggle against his opponents as well as his own mysterious past, felt in the weight of machinery and the subtlety of human emotions.

Story
It is the 19th century of the New Era. Five years have passed since the resolution of the Fossanian Dispute, over drilling rights to the new-found natural resource, "Agartha water". In this new age driven by the power of steam, a new and dangerous combat sport fusing man and machine has flourished: metal boxing. The war took Levius' father as well as his own right arm, and his mother is still in a coma, hospitalized. Taken in by his uncle Zack, as if by fate Levius finds himself drawn to the world of metal boxing, where his potential blooms. 
Meanwhile, Levius' climb through the ranks of the Grade III championship is being intently observed by the mysterious and eccentric Dr. Clown, and flashbacks to the war are never far from the back of Levius' mind.

Cast
Levius Cromwell:Nobunaga Shimazaki
Zack Cromwell: Junichi Suwabe
Bill Weinberg: Takahiro Sakurai
Natalia Garnet:Ayane Sakura
Malcolm Eden: Hochu Otsuka
Hugo Stratus: Daisuke Ono
Mystery Woman: Saori Hayami
Dr. Clown: Mamoru Miyano

Staff
Based on the comic by: Haruhisa Nakata (Shueisha: Young Jump Comics Ultra)
Supervising Director: Hiroyuki Seshita
Directed by: Keisuke Ide
Series Composition by: Hiroshi Seko
Script: Kenta Ihara, Hiroshi Seko
Production Design: Naoya Tanaka, Ferdinando Patulli
Character Design: Yuki Moriyama
Director of Photography: Mitsunori Kataama
CG Supervisor: Takeshi Iwata
Art Director: Yuki Hatakeyama
Color Designs: Hironori Noji
Audio Director: Yoshikazu Iwanami
Music by: Yugo Kanno
Animation Produced by: Polygon Pictures Inc.
Produced by: Polygon Pictures Inc.

Official Site: http://levius.net