Press Release
Jul.30, 2021
Feature Animation Knights of Sidonia: Love Woven in the Stars to be Released at Theaters in US and Canada from September 13th!
Polygon Pictures ("PPI," President and CEO: Shuzo Shiota, Head Office: Tokyo, Japan) is proud to announce that the animated feature film Knights of Sidonia: Love Woven in the Stars, produced by our studio, will be released in theaters in the US and Canada.
Knights of Sidonia, the comic by internationally acclaimed manga creator Tsutomu Nihei, was first adapted into a TV anime in 2014 by PPI, at the time commemorating 30 years in the animation industry. The first domestic Japanese anime production to be streamed worldwide, the show received numerous awards propelling both the anime and original comics further into the spotlight. Now, with key staff members reunited under the creative supervision of Tsutomu Nihei, and featuring some new and different content from the original comic along with theme song and background music by Yasutaka Nakata and Toshiko Koshijima's group CAPSULE, the final chapter of the Knights of Sidonia saga, the animated feature film Knights of Sidonia: Love Woven in the Stars, was released nationwide in Japan on June 4th, 2021. With its high-quality visual and audio presentation, the film snapped up second place on its opening day on domestic box-office ranking site Filmarks, and continues its run in select theaters even now.

With the cooperation of US-based Funimation Global Group, LLC ("Funimation," Founder and Chairman: Gen Fukunaga, Head Office: Texas, USA), from September 13th, 2021, Knights of Sidonia: Love Woven in the Stars will be released in theaters in the US and Canada for a limited time. Both original Japanese audio with English subtitles and English dub versions are planned to be shown. Funimation will also be releasing seasons one and two of the TV anime, Knights of Sidonia and Knights of Sidonia: Battle for Planet Nine on its streaming platform from August 3rd.

Funimation Global Group's Senior Vice President of Global Commerce, Mitchel Berger, gave the following comment:
"Knights of Sidonia is a kick-ass adventure tale in the truest sense, with epic battles and romance woven in. We can't wait to share the conclusion of their story with fans in theaters this September. And what better way to prepare for the final battle coming to theaters than reliving where it all began with the anime series streaming on Funimation. We're thrilled to be working with Polygon to bring the franchise to fans."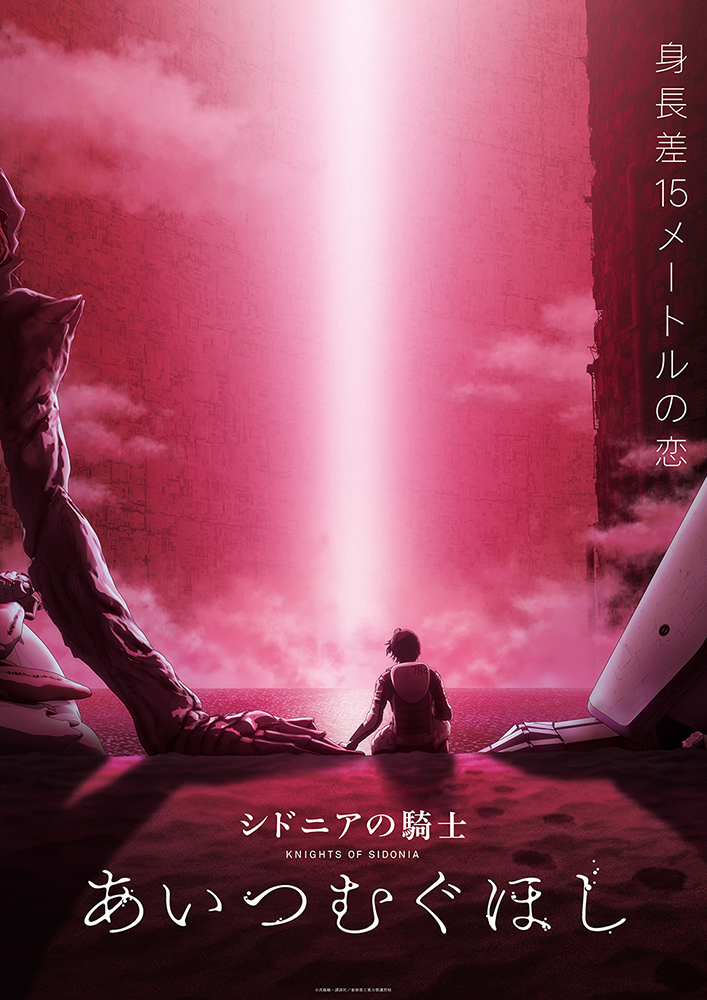 © Tsutomu Nihei - Kodansha / KOS Film Partners
About Funimation
As the market leader in anime, we proudly deliver incredible fan experiences across television, feature films, events, collectibles, and the Funimation App.

Headquartered in the US and connected by a global network, our anime-obsessed team serves the fandom in over 52 countries and 10 languages. With over 400 team members, we've built a global community where fans and their passion will always have a place to belong.

Funimation is an independently-operated joint venture between US-based Sony Pictures Entertainment, and Japan's Aniplex, a subsidiary of Sony Music Entertainment (Japan) Inc., both subsidiaries of Tokyo-based Sony Group Corporation.
About Knights of Sidonia: Love Woven in the Stars
-- Love at a 15-meter height difference.
After the destruction of Earth by hostile, non-communicative alien entities known as the Gauna, surviving remnants of the human race escaped to space in the enormous generation ship Sidonia. Having drifted through space for millennia, Sidonia found itself once more under attack from Gauna for the first time in a century. Again facing the threat of extinction, a temporary victory against the Gauna was eked out thanks to the human-Gauna hybrid Tsumugi Shiraui and the ace mech pilot Nagate Tanikaze.

10 years later, the population of Sidonia continues to enjoy this brief respite. Peaceful days pass, during which Tsumugi begins to realize her feelings for Nagate, who is now celebrated as a hero of Sidonia. However, as Captain Kobayashi has always known, as long as the Gauna remain peace cannot last…

The course is set: a final battle, upon which rests the fate of humanity's last survivors. As the end of their odyssey approaches, will the crew be able to protect those they love?

For more information, visit the official website at: https://sidonia-anime.jp/
Twitter: @SIDONIA_anime