Press Release
Feb.26, 2015
Polygon Pictures producing animation for
new Transformers: ROBOTS IN DISGUISE TV series!
Broadcast to begin worldwide in 2015!
Polygon Pictures ("PPI," President and CEO: Shuzo Shiota, Head Office: Tokyo, Japan) is proud to announce our involvement in the production of the newest animated series in the long-running Transformers franchise, Transformers: Robots in Disguise. Our studio will be creating animation for the new series, which carries on from the Emmy award-winning and internationally recognized Transformers Prime, now featuring a new visual style which fuses the strengths of both 3D CG and hand-drawn animation.

About this new series, Hasbro's Chief Content Officer Stephen Davis commented, "We have spent a lot of time listening to what kids like about Transformers and they haven't been shy about giving us their opinions. And we have listened! TRANSFORMERS: Robots in Disguise is reflective of all that we have learned in our conversations with kids. It has the most relatable Autobot and Decepticon characters we have ever 'Rolled Out' in a Transformers animated series!"

Featuring Bumblebee as the leader of a new team of young Autobots chasing down the most evil Decepticon villains scattered across Earth, this new series is packed with action and humor!
About Transformers: Robots in Disguise
In the years after we left the Autobots in the previous series Transformers Prime, TRANSFORMERS: ROBOTS IN DISGUISE begins with Bumblebee as he steps up to be a leader and assembles a rogue team of young Autobots; the cool rebel Sideswipe, elite guard cadet Strongarm, bombastic dinobot Grimlock and excitable mini-con Fixit. A long-awaited new adventure finally begins! The series is currently planned to be broadcast globally this spring. "

 
Official Site
http://www.hasbrostudios.com/shows/page/title/transformers-robots-in-disguise

Trailer
https://www.youtube.com/watch?v=1KjHtPfhHCg#t=21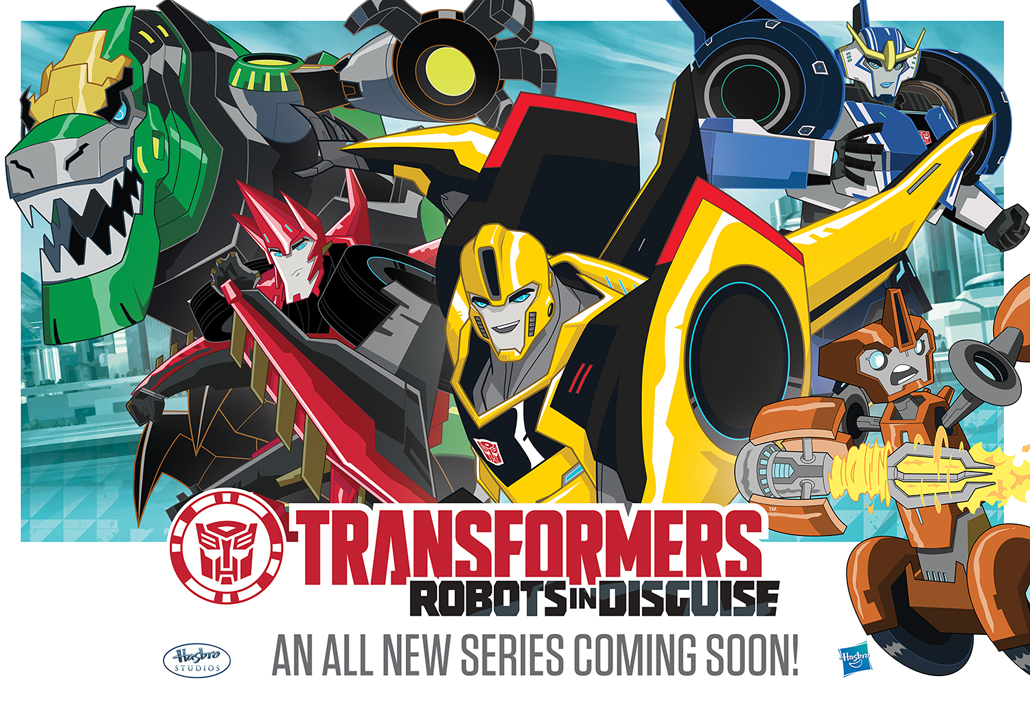 © 2014 Hasbro. All rights reserved
About Polygon Pictures
Founded in July 1983, PPI is one of the largest digital animation studios in Japan and produces cutting-edge entertainment content in keeping with our mission to "do what no other has done, in unparalleled quality, for all the world to see and enjoy."
Including our Malaysian subsidiary studio Silver Ant PPI Sdn. Bhd., and visual software development company J Cube Inc., we have brought together over 400 creators from around the world. Together as the Polygon Family, we devote our days to producing digital content for all types of media. Our notable works include Transformers Prime, Star Wars: The Clone Wars (both Daytime Emmy award winners), Tron: Uprising (Annie award winner), Knights of Sidonia (Director: Kobun Shizuno) and Ronia the Robber's Daughter (Director: Goro Miyazaki), and more.
By fusing our unrivalled technical and production planning know-how with the internationally recognized quality of Japanese animation, PPI aims to become a leading company in the content business. For more information, visit our website at http://www.ppi.co.jp.

Inquiries regarding this press release: Nana Mizobe, Producer Department, Polygon Pictures Inc.
Address: 1F Azabu Green Terrace, 3-20-1 Minami-Azabu, Minato-ku, Tokyo 106-0047
Email: marketing@ppi.co.jp