Press Release
Jun.05, 2015
Smash hit comic AJIN -DEMI-HUMAN- (Gamon Sakurai, published by Kodansha) to receive anime adaptation by Polygon Pictures!
Polygon Pictures ("PPI," President and CEO: Shuzo Shiota, Head Office: Tokyo, Japan) is proud to announce our involvement in the production of an animated adaptation of the popular comic AJIN -DEMI-HUMAN- (Gamon Sakurai, serialized in Kodansha's good! Afternoon).

Beginning in the July 2012 edition of good! Afternoon (Kodansha), this action-thriller has been acclaimed for its fast-paced narrative, deep character portrayals and its profound story, and has become a smash hit selling more than 3.2 million copies.

Our studio is currently working on bringing the dynamic visuals of the original comic to life as digital animation using our unique technology incorporating cel animation techniques.
As more information on the cast, images from the animation, etc., are revealed we plan to release these on the official AJIN - DEMI-HUMAN website (URL: www.ajin.net). Be sure to keep an eye on it!
About AJIN -DEMI-HUMAN-
The action-thriller smash hit currently serialized in Kodansha's monthly good! Afternoon. Acclaimed for its fast-paced narrative and profound story, it has sold more than 3.2 million copies.6 volumes are currently available in book form.

Story: High-schooler Kei Nagai is mysteriously resurrected after being hit by a truck and killed. Thus he discovers he is the third of a new species of immortal "demi-humans" to be discovered so far in the country. The police and Demi-human Control Commission launch a massive manhunt to bring in this new specimen. Meanwhile, the second known demi-human has escaped government custody with the help of an accomplice and remains on the run. These fugitives have also begun planning a campaign of terrorism to exact their revenge on humanity.
Keep your eyes out for Kei Nagai. I repeat...


Main Production Staff
Original Manga: Gamon Sakurai (serialized in Kodansha monthly good! Afternoon)
Supervising Director: Hiroyuki Seshita
Director: Hiroaki Ando
Series Construction/Screenplay: Hiroshi Seko
Screenplay: Kenta Ihara, Jun Kumagai
Production Designer: Naoya Tanaka
Character Designer: Yuki Moriyama
Art Director: Mitsunori Kataama
Matte Painting Supervisor: Hiroshi Takiguchi
Color Designs: Hironori Noji
Concept Designer: Ferdinando Patulli
Concept Artist: Ikumi Nakamura
Episode Director: Akio Kazumi, Ryo-timo, Keisuke Ide
CG Supervisor: Takeshi Iwata, Yuki Mizoguchi, Susumu Sugai
Animation Director: Yasuhiro Motoda
Storyboard: Hiroyuki Morita, Hiroyuki Fukushima
Editors:Jun Watanabe, Toshimi Tabe, Yukari Toneya
Sound Director: Yoshikazu Iwanami 
Music: Yugo Kanno 
Animation Production: POLYGON PICTURES
Distribution: Toho Visual Entertainment
Production: AJIN Production Committee

Official Website
URL: www.ajin.net

Official Twitter
@anime_ajin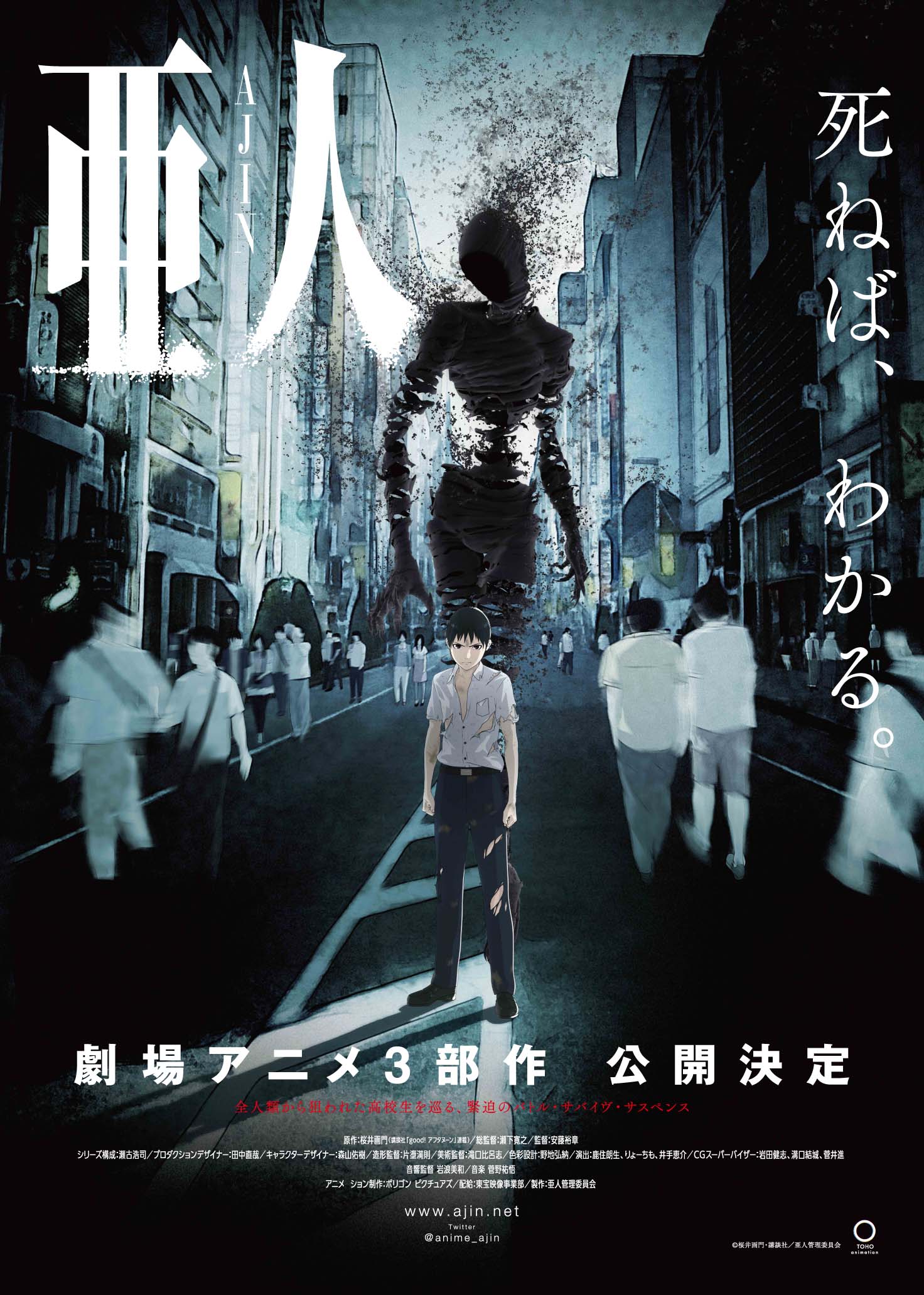 Based on the manga "Ajin" by Gamon Sakurai originally serialized in the monthly GOOD! AFTERNOON published by KODANSHA Ltd. © Gamon Sakurai, KODANSHA/AJIN Production Committee. All Rights Reserved.
About Polygon Pictures
Founded in July 1983, PPI is one of the largest digital animation studios in Japan and produces cutting-edge entertainment content in keeping with our mission to "do what no other has done, in unparalleled quality, for all the world to see and enjoy."
Including our Malaysian subsidiary studio Silver Ant PPI Sdn. Bhd., and visual software development company J Cube Inc., we have brought together over 400 creators from around the world. Together as the Polygon Family, we devote our days to producing digital content for all types of media. Our notable works include Transformers Prime, Star Wars: The Clone Wars (both Daytime Emmy award winners), Tron: Uprising (Annie award winner), Knights of Sidonia (Director: Kobun Shizuno) and Ronia the Robber's Daughter (Director: Goro Miyazaki), and more.
By fusing our unrivalled technical and production planning know-how with the internationally recognized quality of Japanese animation, PPI aims to become a leading company in the content business. For more information, visit our website at http://www.ppi.co.jp.