[Seminar] Film Production and the Future of Procedural
Seminar Title:
Film Production and the Future of Procedural

Seminar Content:
In the past few years as the scale of film production has continued to increase, implementation of efficient procedural methods has become more and more important.
In this seminar, we will discuss how procedural methods are being effectively incorporated into studio workflows, as well as future developments and give our audience working examples from a number of companies on the "future of procedural".
[Event details]
Date & Time:
Saturday, September 29, 2018, 13:00-19:00

Details:
13:00 Doors Open
13:30 - 13:40 Introduction
13:50 - 14:30 Procedural in Cel-Look CG Production. Further Development and the Artist's Skill & Motivation. (Polygon Pictures Inc.)
14:40 - 15:20 SideFX's Take on the Future of Procedural. (Side Effects Software Inc.)
15:30 - 16:10 Server Side Procedural in Small Team Production. (Studio Phones)
20 min break
16:30 - 17:10 Beyond the Barrier Between Realtime and Pre-render. Procedural Methods and Non-destructive Workflow. (anima inc.)
17:20 - 18:00 A Diverse Visualizing Process Enabled by Procedural. (OMNIBUS JAPAN INC.)
18:10 - 18:40 Future Use of Procedural in Large-Scale Film Production. (Polygon Pictures Inc.)


Venue:
Educational foundation electron school
Japan Electronics College
1-25-4, Hyakunincho, Shinjuku-ku, Tokyo 〒169-8522 
(Map: http://www.jec.ac.jp.e.aem.hp.transer.com/access/)

Recommended for:
Persons working in TA/TD, R&D, or other pipeline development roles in entertainment-related fields (primarily film and games, etc.)
Persons from studios looking to move into large-scale film production and considering requisite pipeline improvements.

Attendance fee:
Free

Capacity:
Approx. 100-200 people (TBC)

Organized by:
Polygon Pictures Inc.

Venue supported by:
Educational foundation electron school
Japan Electronics College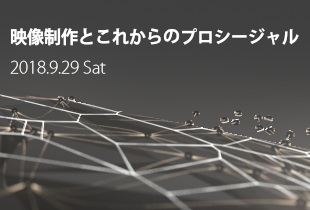 [Application form]
We stopped accepting applications because there is no more place available. Thank you for your application.
[Studio Information]
anima inc.

Founded in 1997 with the vision of "making 'amazing' happen", Anima is a studio focused on creating original works through high-quality CG animation.
Original works include CAT SHIT ONE - THE ANIMATED SERIES, in addition to overseas projects such as the recent collaborations with Riot Games in the creation of Star Guardians and A New Horizon, promotional videos for League of Legends, the world's largest online game.
In 2015 Anima announced a partnership with Tonko House Inc. (Co-owners: Daisuke Tsutsumi, Robert Kondo) - creators of The Dam Keeper, nominated at the 2015 Academy Awards in the Animated Shorts category; and in March 2018 with Studio Toa Co. Ltd. - a studio using 3dCG in manga creation led by manga artist Yasuo Otagaki.
For more information, visit their website at http://www.studioanima.co.jp


OMNIBUS JAPAN INC.

OMNIBUS JAPAN is a digital production that specializes in the total production of visual works based in postproduction, CG, and VFX.
We have produced many major works including feature films, advertisements, TV shows and exhibition visuals.
The creative production of OMNIBUS exceeds the limits of traditional mediums through technical development in fields such as spherical visuals, dome visuals, information art, VR, AR etc...
http://www.omnibusjp.com/


Side Effects Software Inc.

For over thirty years, SideFX has been providing artists with procedural 3D animation and visual effects tools designed to create the highest-quality cinematic results. We are passionate about what our customers do because our roots are in production, both as artists and as pioneering technical innovators.
https://www.sidefx.com/


Studio Phones

Studio Phones is working on the feature film "homes", for which promotion will begin in 2020.
As a small studio, they aim to focus their efforts on creating unique content. For more information, the website https://studiophoneshomes.com is planned to open in 2020.


Polygon Pictures Inc.

Founded in July 1983, Polygon Pictures is one of the largest digital animation studios in Japan and produces cutting-edge entertainment content in keeping with our mission to "do what no other has done, in unparalleled quality, for all the world to see and enjoy." Including our Malaysian subsidiary studio Silver Ant PPI Sdn. Bhd., we have brought together over 400 creators from around the world. Utilizing the latest technologies, they pool their talents and passions to create new content. Our notable works include GODZILLA: Planet of the Monsters, Knights of Sidonia, Ajin, BLAME!, Transformers: Robots in Disguise, Lost in Oz, Pingu in the City, and more.
By fusing our unrivalled technical and production planning know-how with the internationally recognized quality of Japanese animation, Polygon Pictures aims to become a leading company in the content business. For more information, visit our website at http://www.ppi.co.jp.